About Spring Ridge Chiropractic in Frederick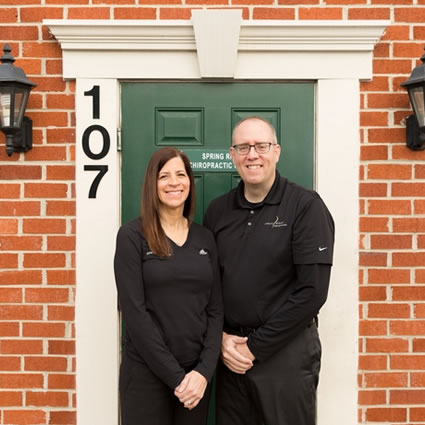 Our Mission
At Spring Ridge Chiropractic, we hear you and we want to help you. Our mission is to improve the health care of our community naturally, while educating our community about natural health care. The guiding principles of our practice are integrity, care and community, and our commitment to these values is evident in our approach to our patients.
Coming Home
Dr. Ortiz and Dr. Hinchman opened their practice in Laurel in 2000, commuting from Frederick. After a few years, they decided they wanted to practice closer to home so they could be more involved in the local community. We've been in our current location since 2006, and we love being involved and giving back to the community. Every year, we select a local nonprofit and raise money for it throughout the year.
Our Approach to Care
We specialize in drugless healthcare solutions for all ages, with an emphasis on musculoskeletal conditions. We combine chiropractic, physical therapy and nutritional counseling on a case-by-case basis, designing treatment plans to meet the individual needs and goals of each person we care for.
Our commitment to addressing the soft-tissue components of our patients' conditions helps us achieve lasting results and allows patients to get back to exercise, playing with their kids and fully enjoying life.
We Love Results
Most people don't realize that headaches are often caused by joint dysfunction and muscle tightness in the neck. After living with headaches that don't respond to other treatments or medications, finding relief with chiropractic care is life-changing for many patients. We love educating people and helping them overcome their skepticism so they can experience life without pain.
Another common condition we see is hip/low back pain that is often the result of muscle tightness, poor joint mobility and deconditioning. When we help patients work through this situation, they can get back to exercising and regain their conditioning—and get down on the floor to play with their kids or grandkids.
Start Today
We'd love to help you, too. Contact us today to book an appointment
---
Frederick MD Practice | (301) 620-8566