New Patients at Spring Ridge Chiropractic
In order to minimize your time in the waiting area, our new patient paperwork is available online for you to complete at your convenience at home.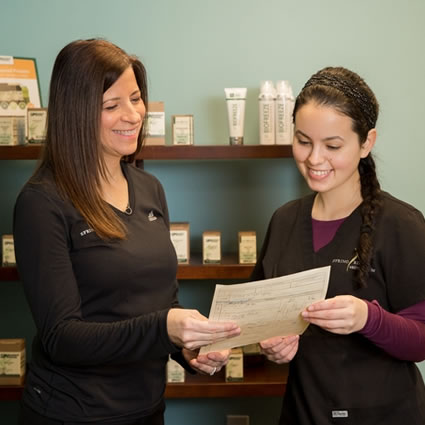 ONLINE FORMS »

Your First Visit
When you first enter Spring Ridge Chiropractic, our front office staff will greet you warmly by name and show you around—we want you to feel comfortable and know where everything is. Then you'll meet with your chiropractor. We take our time and truly listen as you describe your health history and the problems you're currently having. We want you to feel heard, so we may ask some questions to help us clarify our understanding of your situation.
Next, you'll have a thorough examination so we can locate any areas of misalignment that are contributing to your condition. We will generally offer some passive therapies at this visit, to help get you out of pain. We suggest you plan on about an hour for your first visit.
Your Second Visit
At your second visit, we'll go over our findings and explain what is causing your situation, and how we plan to address it. We'll also check to see how well your body has responded to the passive treatment we provided at your first visit—this will help determine how long your overall treatment should be.
We will discuss all the financial information at this visit, including your insurance coverage. If you're ready to begin care, you'll usually receive your first adjustment at this visit. This appointment is generally about 45 minutes, and subsequent visits are about half an hour. We will re-examine you every eight to twelve visits to assess your progress.
Getting You the Care You Need
We expect to see some change in your condition within the first two weeks of care. If you have not improved in that amount of time, we have a network of trusted providers we can refer you out to. We want you to get the help you need, even if we aren't the right place for you.
Contact us today to book your appointment.
CONTACT US »
---
New Patients at Spring Ridge Chiropractic | (301) 620-8566